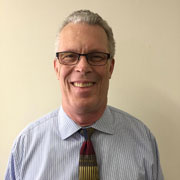 Pastor Smith is a 1977 graduate of the US Coast Guard Academy.  He served in the Coast Guard for five years.  During that time he met Karen who was a Navy nurse, and they married in 1980.  Pastor decided to leave the Coast Guard to study for the ministry. He studied at Bethany Lutheran College and our Wisconsin Lutheran Seminary.  He graduated in 1988 and was assigned as a mission pastor in Las Cruces, NM.  He then served in Elk River, Minnesota, and fifteen years in Petaluma, California, from where he retired.  Karen and Pastor then moved to Round Rock, Texas.
One of the more interesting anecdotes we have learned about Pastor is that in 2012, he donated a kidney to a stranger, which set into motion a chain of transplants. It was one of the most profound things he was ever able to do. He learned how true Jesus' words are: it is more blessed to give than receive.  There isn't a day that goes by that he is not touched by this experience.  It was his way of honoring Jesus for saving him.
We are grateful to have Pastor Smith serve with us again while we call a new permanent pastor.
Pastor Smith's favorite verse is Isaiah 41:13.
For I am the Lord your God
    who takes hold of your right hand
and says to you, Do not fear;
    I will help you.