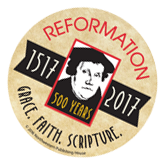 Church membership. Theology. Philosophy. Education. Politics. Linguistics. Military service. Social classes. Family life.
There is a man whose words and actions had a powerful impact in all of these areas. In 2017 those who still use his name to identify themselves will celebrate the 500th anniversary of the doctrinal reformation he initiated on October 31, 1517, with his 95 Theses. Above all, they will celebrate this man's rediscovery of the truth only revealed in Holy Scripture — that we are saved only by God's grace, which is only received through faith in the all-sufficient work of his Son Jesus Christ.
This man was Martin Luther.
Please join us in 2017 as we celebrate this anniversary and grow closer to our Savior through a sermon series on Luther's life.
For more Reformation anniversary resources and information, please visit the WELS Reformation 500 resources page.